WAN Dynamics is excited to announce our addition to the Sandler Partners Portfolio! WAN Dynamics has signed with a Sandler Strong Evergreen agreement, becoming part of the Sandler Partners community. Sandler Partners will now be able to help their customers make their networks more agile in order to reduce operating expense, lessen time to deployment, prevent outages and eliminate costly configuration errors. WAN Dynamics designs custom network solutions as well as provides both professional consulting and managed services across a range of diverse, essential enterprise networking areas for their global list of clients.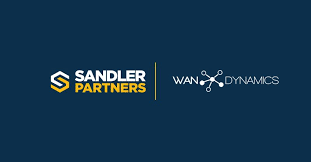 Nick Brown, Director, Channel – Great Lakes Region states, "Sandler Partners is happy to announce WAN Dynamics as the newest addition to our growing Supplier portfolio. Their SD-WAN solutions are custom designed and fully managed by their 24/7 NOC delivering an integrated cloud ready enterprise solution. The key factor to their success is their consultative approach that starts with an in-depth physical and logical network evaluation which allows them to create an inventory of what each customer has in place, how its implemented and what needs to be done to meet their unique objectives."
Contact Shane Hurst on our team to learn more!